Die elfte Ausgabe des Eternitys erschien mit etwas Verspätung, weil uns diverse personelle und logistische Umstände vor Herausforderungen stellten, die sich nur mühsam bewältigen ließen. Verschwundene Lieferungen bei der Post, Redakteure die kurzfristig ausgefallen sind, sowie eine ausgebuchte Druckerei sorgten dafür, dass unsere Leser das Heft statt Ende April/Anfang Mai 1999 erst Mitte/Ende Juni in den Händen halten konnten. Kurz: Eine Ausgabe die uns an den Rande des Nervenzusammenbruchs führte.
Am Ende sollten aber die 72 Seiten für einiges entschädigen und etliche Schmankerl bereithalten.
Auf der beiliegenden CD gab es Songs von: Very Wicked, Uppercut, Sun of Sadness, Taetre, Loonatikk, Delirious, Azrael's Tears, Lacrima Christi, Necrobiosis, Forgotten Silence, Immortal Rites, Dry Rot, Somnifere, Ravendark, Polymorph, Mortal Terror, Bonehouse und Spearhead.
In unserem Schreiberstamm hatten sich in den letzten beiden Ausgaben neue Redakteure wie Petra Schurer, Sascha Blach und Robert Pöpperl etabliert, welche in den Folgejahren (zum Teil bei anderen Magazinen) zu einer festen Größe der schreibenden Zunft avancierten.
Inhaltlich standen diesmal EMPYRIUM im Mittelpunkt, welche auch das Titelbild der Nummer 11 zierten. Diese hatten gerade ihr drittes Album "Where at Night the Wood Grouse Plays" veröffentlicht und standen nach dem Interview in unserer #4 zum damaligen Debut Album somit zum zweiten Mal in unserem Fokus.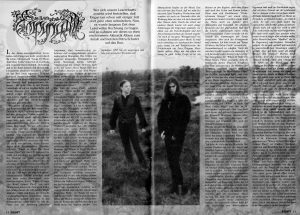 empyrium.bandcamp.com
facebook.com/Empyriumfans
Mit GOD DETHRONED gab's dann eine der Bands in unserem Heft, die in den folgenden Jahren bis hin zum heutigen Tag ihre Fans regelmäßig mit Veröffentlichungen beglückten. Ganze 10 Alben veröffentlichten die Niederländer bisher; der letzte Longplayer "The World Ablaze" datiert auf das Jahr 2017.
Das damals frisch veröffentlichte Drittlingswerk "Bloody Blasphemy" schlug jedenfalls bei uns ein wie eine Bombe und stellt für mich auch heute noch einen der musikalischen Höhepunkte der Band dar.
Full Album:

goddethroned.com
facebook.com/goddethronedofficial
Mit SINNERS BLEED blickten wir in unserer #11 dann auch auf die lokale Berliner Szene, in welcher sich das Quintett gerade einen Namen machte und sich mit ihrem frisch veröffentlichten Debut Demo "The Awakening" anschickte, über die Grenzen der Stadt hinaus auf sich aufmerksam zu machen. Mit ihrem 2003er Debüt Full Lenght Album "From Womb to Tomb" setzten die Berliner bis heute Maßstäbe im Bereich des technisch-frickeligen Brutalo Death Metal.
Nach einigen Wechseln am Mikro und einem möglichen vorzeitigen Karriere Ende von Drummer Eric (welcher zwischenzeitlich u.a. auch bei Golem die Sticks schwang) wurde es lange ruhig um die Kombo. Erfreulicherweise haben sich die Jungs mittlerweile wieder zusammen getan und sind seit 2-3 Jahren auch wieder verstärkt Live zu sehen. Doch damit nicht genug: Aktuell hat die Band die Arbeiten zu einem neuen Album abgeschlossen, welches im kommenden Jahr auf die Menschheit losgelassen wird!
• Behind the Veil (2007)

• Live Berlin Death Fest 2016

facebook.com/SinnersBleedBand
Außerdem in #11 gab es Interviews mit den Mädels von Sacralis, sowie Forbidden Site und den Slowaken von DEPRESY, welche sich nach einer etwas längeren Pause (das letzte Album "Morph – Near Death Experiences" stammt aus dem Jahr 2009) just in diesem Jahr mir einer neuen Zwei Track EP namens "MMXVIII" zurückmeldeten.
• Depresy EP 2018

facebook.com/depresyofficial
Weitere Interviews gabs mit z.B. Children Of Bodom, Destillery, Minas Morgul, Taetre, Darkane, Excelsis, Sins Of Omission und Korova.
Zu guter Letzt gabs in #11 ein weiteres "Blitzgespräch", also unserem mittlerweile legendären Telefonschabernack, in welchem sich ein vermeintlich schwer verliebtes Groupie ein Herz fasste, um endlich seinen heimlichen lokalen Schwarm anzurufen, der natürlich in einer Band spielte :)
Wir verlosen heute
2 x ETERNITY #11
Wenn ihr gewinnen wollt, dann sendet bis 13.12. eine E-Mail an: verlosung(at)eternitymagazin.de mit dem Betreff "Adventskalender 11 Eternity" und eurem vollständigen Namen und eurer Adresse. Die Gewinner werden per E-Mail benachrichtigt.
Viel Erfolg!