Mit unserer fünften Ausgabe vom Juni 1997 hoben wir unser Erscheinungsbild auf ein neues Level, indem zumindest das Titelblatt erstmals nicht kopiert, sondern in schwarz/weiss auf matt glänzendem Papier gedruckt wurde. Inhaltlich stand vor allem das Eternity Festival im Fokus, welches am 14. Juni im Leipziger Hellraiser stattfand.
Neben einem ausführlichen Festivalbericht gabs nochmal ein paar Kurzinterviews mit den Bands, welche sich dort die Ehre gaben. Zu Wort kamen in diesem Special: Orth, Night In Gales, Evereve, Eternal Peace, The Church Bizzare, Bonehouse und Eternal Sadness.
Der Kurzfristig beim Festival eingesprungene Opener BLACKEND stand uns im regulären Teil der Ausgabe dann etwas ausführlicher Rede und Antwort, schließlich hatte man gerade mit dem bärenstarken Debüt "Sloth" einen echten Thrash-Metal-Leckerbissen veröffentlicht, der selbst anno 2018 noch ordentliches Nackenschmerzen Potential entfaltet!
Außerdem in Nummer 5 vertreten waren die lettischen Technik-Death-Metal-Dauerbrenner von NEGLECTED FIELDS, welche ihr letztes Album "Splenetic" im Jahr 2006 veröffentlichten. 2011 lösten sich die Letten eigentlich auf, aber nur um 3 Jahre später im Sommer 2014 ihre ReUnion bekannt zu geben und zumindest bis ins Jahr 2017 hinein wieder verstärkt Live auftraten.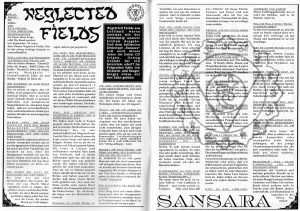 facebook.com/neglected.fields
[Neglected Fields im Eternity Archiv]
Desweiteren widmeten wir uns ausführlich mit den Berliner Death Metallern von
HARMONY DIES
, die gerade die MCD "Slaughtered" veröffentlicht hatten und welche über viele Jahre hin ein Garant für Brutal Death Metal waren – und es bis heute sind! Das letzte Album mit dem Titel "
Indecent Paths of a Ramifying Darkness
" erschien im Jahre 2016 und soll allen Anzeichen nach auch nicht das letzte sein.
Auch vertreten waren die polnischen Ausnahmemusiker von
LUX OCCULTA
(komplettes Interview aus Nr. 5 hier)
, welche sich zwischen 2002 und 2011 ebenfalls eine Pause gönnten und ihren Stil von Black Metal zu avantgardistischer Musik wandelten. Ihr aktuelles Album "Kołysanki" ist aus dem Jahre 2014.
Außerdem gab es in #5 noch ein kleines Ungarn Szenespecial und weitere Interviews z.B. mit The Priors Diary, Tiananmen, Darkness Is My Pride, Destiny und Tatmotiv Angst, die das Motiv für das Coverbild geliefert haben.
Wir verlosen heute
2 x Promo-ÜBERRASCHUNGS-PAKET
Wenn ihr gewinnen wollt, dann sendet bis 07.12. eine E-Mail an: verlosung(at)eternitymagazin.de mit dem Betreff "Adventskalender 05 Eternity" und eurem vollständigen Namen und eurer Adresse. Die Gewinner werden per E-Mail benachrichtigt.
Viel Erfolg!