Hinter dem zweiten Türchen unseres Adventskalenders verbirgt sich ein Blick in das Heft Nr. 2. Im Fokus sind heute drei Bands, die nicht mehr aktiv sind (oder eine sehr lange Pause machen) und unserer Meinung nach dennoch nicht in Vergessenheit geraten sollten.
Orth wurde 1989 von Gitarrist Hannes gegründet und ist leider nicht mehr aktiv. Jahrelang war die Band in der Berliner Death-Metal-Szene (und darüber hinaus) in aller Munde. Nach einem Demotape und der Single "Leichenschmaus", die schnell Kultstatus erreichte, folge das Debütalbum "Ano Kato", welches mich zu folgendem Interview veranlasste: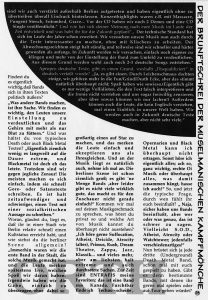 2014 haben wir das letzte Lebenszeichen von Orth vernommen. Aber die Hoffnung stirbt zuletzt.

[Orth im Eternity Archiv]
facebook.com/ORTH-215865835104668/
Dark At Dawn konnten mit ihrer 1995er "Oceans of Time" EP durch ihren unverkennbaren Stil sofort begeistern und haben den guten Eindruck mit den folgenden Veröffentlichungen bestätigt. Nach dem vierten Full-length-Album "Dark At Dawn" wurde es ruhiger um die Band. Nach fünf Jahren Pause folgte 2012 die Reunion mit der 4-Song EP "Noneternal" und einigen Konzerten. Auch ein Album wurde angekündigt. Auf der Facebookseite findet man noch ein Konzert vom Januar diesen Jahres. Wir sind gespannt, ob das auf ein zweites Comeback hindeutet…
[Dark At Dawn im Eternity Archiv]
facebook.com/dark.at.dawn.official
darkatdawn.de
Und last but not least EverEve, die uns durch ihre Split-CD mit Parracide aufgefallen sind. Bei ihrem Auftritt auf dem Eternity Festival 1997 konnten sie die Besucher mit ihrem emotionalen Gothic Metal problemlos in ihren Bann ziehen. Nach zwei hoch gelobten Alben ist der Sänger und Bandgründer Tom 1999 ausgestiegen und nahm sich das Leben. Mit neuen Sängern entstanden vier weitere Alben, die 2010er EP "Emission" und die Compilation Do-CD "Origins", die u. a. auch die Songs der Split-CD enthält.
[EverEve im Eternity Archiv]
https://www.facebook.com/evereve.page/
Weitere Interviews in Eternity #2: Endocrane, Naevus, Tyccoma, Eternal Peace, Subversion, Night In Gales, Twilight, Depression, Bonehouse und Care Of Souls
Wir verlosen heute
2 x Promo-Überraschungs-Paket
Wenn ihr gewinnen wollt, dann sendet bis 04.12. eine E-Mail an: verlosung(at)eternitymagazin.de mit dem Betreff "Adventskalender 02 Eternity" und eurem vollständigen Namen und eurer Adresse. Die Gewinner werden per E-Mail benachrichtigt.
Viel Erfolg!