FLESHCRAWL und REVEL IN FLESH "Triple Flesh Treat" – Minitour im Februar 2018:
22.02. FLESHCRAWL und REVEL IN FLESH, ADDICTION, Hamburg, Bambi Galore
Addiction bei Facebook
23.02. FLESHCRAWL und REVEL IN FLESH, ISLAY, NIGHT IN GALES, Rheine, Hypothalamus
Islay bei Facebook
Night In Gales Website
24.02. FLESHCRAWL und REVEL IN FLESH, Genk (Belgium), Colosseum
Fleshcrawl bei Facebook
Revel In Flesh bei Facebook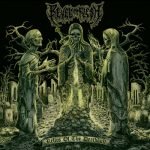 Die schwäbischen Death Metaller REVEL IN FLESH melden sich am 16. März 2018 mit dem Compilation-Album "Relics Of The Deathkult" zurück (über War Anthem Records).
Die enthaltenen 11 raren Songs wurden zwischen 2012 und 2017 aufgenommen und bisher nur als Split-7"-EP-Beiträge oder Vinyl-Bonustracks veröffentlicht.
Die CD kommt inklusive Pappschuber-Slipcase und einem umfangreichen Booklet mit jeder Menge Infos, Linernotes und Fotos. Das Artwork der Compilation wurde von REVEL IN FLESH-Stammkünstler Juanjo Castellano angefertigt.
Tracklist:
1. Bonecrusher
2. Corpus Vermis
3. Chant Of Misery
4. Deathkult
5. Phlebotomy – Blood Dripping Healing
6. Nightrealm Ghouls – The Dead Will Walk The Earth
7. The Ending In Fire
8. Casket Ride
9. Pay To Die (Master – Cover)
10. Mutilation (Death – Cover)
11. Deny The Light (Headhunter D.C. – Cover)