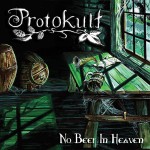 Boonsdale Records
Bewertung: 2/6 → Durchwachsen!
Songs: 12 + 2 Hidden Tracks
Spielzeit: 56:05 + 06:37
Manchmal fragt man sich, ob man nicht doch schon alles gehört hat. Denn was Protokult auf ihrem neuen Album bieten, kennt man schon von alten Bekannten, aber aus sämtlichen Metalgenren. Allerdings kann man bei einem Titel wie "No Beer In Heaven" kaum erwarten, dass sich eine eine Band immer ernst nimmt.
Der erste Song "Get Me A Beer" klingt schon sehr stark nach Korpiklaani, und das sowohl textlich als auch musikalisch. Irgendwo ist ebenso ein bisschen Arkona dabei und dann erinnert der Song außerdem an Adorned Brood. Wer jetzt allerdings ein reines Folk Metal Album erwartet, der irrt. Denn beim zweiten Song "Heaven Cast Me Out" kommt was ganz anderes. Ist es Within Temptation? Lebt Pete Steel wieder? Und wer gröhlt da? Tausend Fragen eine Antwort: Es ist Protokult , die Band, die sich irgendwie mal aus allen Genren bedienen will. Also fährt man jetzt für einige Songs auf der Gothschiene. Aber es geht noch weiter: Natürlich darf auch für die Power Metal Freunde nichts fehlen. So wird der Song "Flight of the Winged Hussar" mit lautem Gekreische eingeleitet und was hört man in den Lyrics heraus? Klar "Hail and Kill". Doch dann schwänkt man wieder auf folkloristische Klänge um und es gibt Gejodel. Da hat aber jemand bei Arkona geklaut!
Irgendwann verschwimmt das Album dann nur noch in einen Misch Masch aus dem oben genannten und nervenden Klängen von Flöten und Keyboards. Zum Ende hat man noch einige Balladen und die sind okay, aber die meisten Hörer schalten vermutlich eher ab. Sollte man aber nicht, denn die Band war der Meinung den Hörern mit zwei Hidden Tracks noch etwas Gutes zu tun. Und wirklich man hört sich zwölf Songs an um das Schamnkerl zu begutachten. Und was kommt? Genau: schöner Eurodance – Kein Witz! Es ist unglaublich, dass die Band einem nichts ersparrt. Aber es geht noch weiter! Denn der zweite Hidden Song ist dann im Reggaestyle. Von Ernsthaftigkeit kann man da wirklich nicht mehr reden, geschweige den von einem Konzept.
Produziert ist es ganz okay, und wenn die Kanadier auf ihrer Folkschiene geblieben wären, wäre es vermutlich interessanter ausgefallen und immerhin kann man sagen, dass es ganz gut produziert ist.  Doch zum Schluss kann man allerdings nur die Frage, warum es kein Bier im Himmel gibt,  beantworten. Und zwar deshalb, weil Protokult sämtliches Bier getrunken haben müssen, um so ein Album fertig zu bringen.
https://www.facebook.com/Protokult