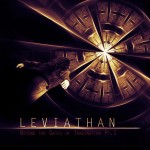 Bret Hard Records
Bewertung: 5/6 – > Mächtig
Spielzeit: 47:00
Songs: 8
Die detaillierte Track-by-Track-Beschreibung zu dem Album aus Sicht des Gitarristen Tobias haben wir kürzlich online gestellt. Um die Betrachtung Eigenbild vs. Fremdbild abzurunden, folgt nun mit diesem Review der unverstellte Blick von außen. Leviathan haben den auf "From the desolate inside" begonnenen Weg konsequent fortgesetzt, einige Schwächen beseitigt und qualitativ noch eine Schippe drauf gelegt. Das Ergebnis ist eine Symbiose aus melodischem Death Metal und Progressivität, die bei jedem Stück den Sinn fürs Detail erkennen lässt. "Beyond the gates of imagination Pt.1" klingt erkennbar nach einem tüfteligen Entstehungsprozess. Hier wurde wahrscheinlich an jedem Riff, jedem Lead, jedem eingespielten orchestralen Part, jedem Break, jedem Stimmungsumschwung oder jedem Klavierpart so lange gefeilt, bis es aus Sicht der Band perfekt war. Ich denke der Aufwand hat sich gelohnt. Die Band hat ein Album vorgelegt, dass den anspruchsvollen Hörer mit auf eine dreiviertelstündige Entdeckungsreise nimmt, dabei aber nicht verweichlicht ist, sondern ganz im Gegenteil auch noch viele Passagen liefert, bei denen Durchzug satt herrscht. Allein Jonas heftiges Geschrei reicht schon aus, um die Band auf Kurs in Sachen gesundes Härtelevel zu halten. Meiner Meinung nach haben Leviathan den Spagat zwischen treibendem Melodien, üppigen Arrangements, die manchmal wie Blind Guardian auf Melodic Death klingen, progressiven, aber nicht zu verschachtelten Strukturen, instrumentalen Finessen und kleineren Anleihen folkiger Natur sehr gut hinbekommen. Was mich am meisten freut: die ausgiebigen Leads, die auf der Debüt-MCD in Teilen fidel- und frickel-grenzwertig waren, wurden deutlich Album-dienlicher eingebaut. Hier kann ich nicht mehr nörgeln.
"Beyond the gates of imagination Pt.1" ist ein beachtliches Album, dass allein schon durch die Namensgebung einen ebenso starken Nachfolger erhoffen lässt. Zu einer Höchstnote fehlt nicht mehr viel. Am Ende sind es nur noch ein paar Ideen, die zwar gut gedacht sind, aber in der Umsetzung noch nicht ganz rund wirken oder ein paar wenige Stellen, bei denen es Leviathan in punkto Ausarbeitung dann doch übertreiben.