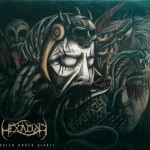 Winternacht Productions
Bewertung: 3/6 -> Okay!
Songs: 12
Spieldauer: 55:45
Hexadar aus Lüneburg legen mit "Buried Under Giants" ihr zweites Full-Length-Album vor. Die musikalische Stilrichtung beschreibt die Band selbst als "Accordion Extreme Metal". Dies legt zumindest bereits vor dem ersten Höreindruck die Vermutung nahe, dass das Akkordeon eine tragende Rolle in den Songs spielt. Dies bewahrheitet sich auf angenehme Weise, jedoch bleibt das Werk von Kinderkrankheiten nicht verschont.
Der Opener des Albums "Burning Clouds" stiftet, beabsichtigt oder nicht, zunächst reichlich Verwirrung, denn zwischen den sauber und untertriebenen akkordeon-lastigen Passagen, die nichts vom klassischen Pagan-Black-Metal vermissen lassen, mischen sich seltsam-experimentell anheimelnde Passagen, in denen Schlagzeug und Gitarren ein pseudo-progressives Wechselspiel miteinander treiben. Derlei Gefrickel gelingt ihnen später mit "Nightmare Settings", dem kürzesten Stück des Albums, wesentlich besser. Zudem holpert der erste Song nach drei Minuten etwas unbeholfen und abrupt in den zweiten Track herüber. Dort erinnert das Ganze dann ein bisschen an Trollfest, freilich ohne das prägnante norwegisch-deutsche Gekreische. Macht eigentlich Spaß – aber auch hier purzelt das Stück sehr plump in das nächste. Leider ein Wiederholungsfehler, den man im Verlauf des Albums häufiger ertragen muss.
Hinsichtlich ihres Könnens brauchen die Jungs anscheinend keine Unterrichtsstunden mehr. Allerdings beschleicht einen als Hörer hin und wieder das Gefühl, als müssten sie noch lernen, einander besser zuzuhören und sich sauberer aufeinander einspielen. Oder im Studio hat's irgendwer verkackt. Nicht komplett, aber Unsauberkeiten fallen bei fast jedem Song auf. Der Gastauftritt von Fred Astaire, der den Song "Beyond The Echo" mit einem Auszug aus dem 1935er Smash-Hit "Cheek to Cheek" beendet, kommt zum Beispiel ziemlich unerwartet. Find' ich aber lustig! Ebenfalls auffällig: Hexadar konnten sich offenbar nicht auf eine Sprache einigen, so dass sich neben den bereits erwähnten englischen Titeln auch Songs wie "Endstufe Stillstand" (von Gaahl geklaut?) und "In den Sphären der Läuterung" finden.
Insbesondere live macht diese Band sicher Spaß. Und ich persönlich begrüße es auch, wenn sich eine Band nicht selbst in den Einheitsbrei ihrer Zunft rührt, sondern ihr persönliches Gewürz in die Suppe gibt. Die Experimente, die wir auf "Buried Under Giants" hören dürfen, machen größtenteils auch Spaß. Allerdings hätte sich die Band mitunter ein bisschen mehr Zeit für den Versuchsaufbau lassen sollen.