Ausgabe #14: Juni/Juli/August 2000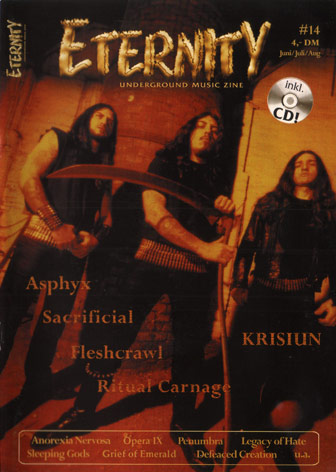 Eternity #14
Format: Din A5
Seitenanzahl: 88 Seiten
Beilage: 1 CD Sampler
Interviews:
Depraved, Death Sentence, Anorexia Nervosa, Penumbra, Krisiun, Sleeping Gods, Defaced Creation, Throne of Chaos, Asphyx, Abrogation, Primordial, Grief Of Emerald, Godstone, Ritual Carnage, Fleshcrawl, Opera IX, Impure, Eternal Tears Of Sorrow, Mourning Caress, Legacy Of Hate, Final Cry, Sacrificial, Endless
weitere Rubriken:
gePRESStes, Hard Stuff, Im Plattenladen, Demos & Eigenproduktionen, Bücherecke, Kleinanzeigen, Des Lesers Seiten
CD Compilation:
IMPURE – it came from the abyss
DRAUTRAN – die wallstatt svolder
FINAL BREATH – river run red
ENDART – killing machines
Mindfield – buy my heaven
BLOOD RED ANGEL – the language of…
CEPHALIC – bloodstained
MIDWINTER – wintertale
THE OTHER DIMENSION – the wild…
DIVINE EMBRADCE – regain of the grail
MASSGRAVE –  requiem suicide
PERSONAL WAR – newtimebitch
ATAGATIS – eternal hero
PSYCHOTRON – the crossroads
GOMORRAH – time of apocalypse
RE-VISION – barriade exit
FINAL CRY – the healing (edit.)
Einige Exemplare sind noch erhältlich. Einfach per E-Mail anfragen.