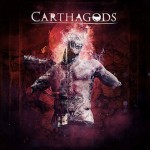 Hands of Blue Records
Bewertung: 5/6 Mächtig!
Songs: 8
Spielzeit: 52:06
Na alle Achtung – die tunesische Heavy-Metal-Band "Cathargods" liefert hier ein starkes Debütalbum ab. Das gleichnamige Album schmettert auch gleich mit einem griffigen Song los – und was hört man hier raus? Die Band wird beim Opener "My Favorite Disguise" gesanglich unterstützt durch Tim "Ripper" Owens höchstpersönlich!
Es ist ein Qualitäts-Song, der dem Ripper würdig ist. Doch damit nicht genug, denn die Tunesier haben sich noch weitere prominente Unterstützung geholt: Marc Jansen (Epica) bringt sich gesanglich beim Song "A Last Sigh" mit tiefen Growls ein und Ron "Bumblefoot" Thal (G´n´R) haut bei "My Revenge" virtuos in die Saiten. Bei diesem Song ist es dann auch soweit: Man möchte sich glatt die Kopfhörer herunterreißen und einfach den Kopf kreisen lassen. Klarer Headbanger-Song!
Insgesamt überzeugt das Album durch sehr druckvolle und zugleich gefühlvolle sowie äußerst abwechslungsreiche Songs. Alle Songs bleiben im Mid-Tempo-Bereich und werden durch wirbelsturmartige Gitarrensoli aufgefrischt. Abgerundet wird das Ganze durch die melancholische Reibeisenstimme von Sänger Mahdi Khema, die sich insbesondere bei der Ballade "Memories Of Never Ending Pain" voll entfalten kann. Das Stück gibt es am Ende des Albums zusätzlich als zarte Akustik-Version mit Percussion und weiteren Gastmusikern. Der Zuhörer darf sich außerdem über den Malmsteen-Cover-Song "I Am A Viking" freuen.
Zugegeben, beim Hören fallen einem so einige Passagen und Elemente auf, die man irgendwo schon mal gehört hat (vom Cover-Song natürlich mal abgesehen), aber es hält sich im Rahmen. Das Album behält ganz klar seine persönliche Note und man hört, dass hier Profis am Werk sind. Die Band existiert ja bereits seit 1996 und hat sich erstaunlich lange Zeit für ihre erste Scheibe gelassen. Wie heißt es doch so schön? Was lange währt, wird endlich gut. "Cathargods" ist ein gelungenes und sehr hörenswertes Album.