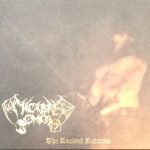 Ván Records
Bewertung: 4/6 → Find ich gut!
Songs: 6
Spieldauer: 38:21
Beim Lesen des Albumtitels dürfte dem einen oder anderen wohl aufgefallen sein, dass es sich bei dieser Platte um ein Re-Release handelt. Die Ehre ging dieses Mal an Ván Records, die die Songs auch gleich auf Vinyl veröffentlicht haben. Ansonsten bleibt die Musik dieselbe, wenn man mal davon absieht, dass der Track "Hellas Ode" in zwei Teile geteilt wurde.
Von seiner klanglichen Aussagekraft hat das Album wenig verloren. Der Sound balanciert gekonnt zwischen den epischen Stimmungen der Viking-Alben Bathorys und der zähen Düsternis von Burzum. Mal kommt dabei die eine Seite, mal die andere Seite mehr zum tragen. Besonders hervorzuheben ist die Gitarren-Arbeit (sowohl elektrisch als auch akustisch), welche einige erinnerungswürdige Momente fabriziert. Highlights sind in der doch eher knackigen Spielzeit "A Call From Gods To God" und "An Ode To Rhode".
Auch wenn es schon lange her ist, dass "The Ancient Returns" das erste Mal unter Musikfans gebracht wurde, so sei auch ein wenig Kritik angemerkt: Das hohe Gekeife des Sängers will in die pathos-reicheren Passagen der Songs nicht richtig passen. Zu sehr erinnert dieser Gesangsstil doch an Sterbend oder ähnliche, depressive Kollegen und das schadet der angestrebten Erhabenheit. In langsame Lieder wie "The Perfect Sound Of North Vs. South" kann sich der Gesang aber wiederum gut einfügen.
Das Debüt-Album des Wahl-Londoner-Duos hatte auf jeden Fall eine erneute Veröffentlichung verdient und das nicht nur weil es nirgendwo mehr zu bekommen war, sondern weil die Musik Nichts an Relevanz eingebüßt hat.