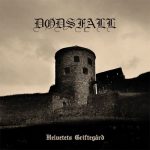 Hammer of Damnation
Bewertung: 4/6 → find' ich gut!
Songs: 12
Spielzeit: 01:00:56
Dødsfall ist schon lange kein unbekannter Name mehr in Skandinavien und die Herren ließen letztes Jahr auf dem Inferno Festival 2016 ziemlich die Puppen tanzen. Die Jungs, eine schwedisch-norwegische Combo, haben es in sich und sind auf keinen Fall mehr blutige Anfänger. Nach sieben Jahren Bandbestehen, vier Alben, einer EP und einer Demo unter der Führung des Frontmannes und Mastermind "IS" aka Ishtar, begeistern sie auch unzählige Fans in anderen Ländern.
Mit "Helvetets Griftegård" hat Dødsfall einen Streifzug durch die Alben "Den Svarte Skogen (2011)", "Inn I Mørkets Kongedømme (2012)", "Djevelens Evangelie (2013)" und der "EP" von 2013 "Kronet I Svart Eld" als eine Kampf-Compilation rausgegeben. Als Sahnehäubchen gibt es noch unveröffentlichtes Material und auch Live-Aufnahmen zu hören.
Krachend und hämmernd, ohne viel Schnick-Schnack, legen die Jungs gleich beim ersten Track "Offer Natt" los und lassen den Hörer in die dunklen Abgründe schweifen. Wie eigentlich bei allen Dødsfall-Alben ziehen sich die Härte und das Tempo wie ein roter Faden durch das Werk und damit schaffen sie eine Symbiose im Alben-Allerlei, die hält, was sie verspricht.
Die Trackliste, ein sehr gut zusammengestelltes Repertoire der vergangenen Jahre, gibt einen sehr guten Eindruck über ihr Schaffen. Kriegerisch, krächzend und kloppend, kämpfen sich die Nordländer durch die Live- und Studio-Tracks, worin sich ganz deutlich das Können und die Kreativität des Frontmannes und die Verehrung des Old School Black Metals der Band abzeichnet.
Erstaunlich ist, dass sich die Live-Tracks in der gleichen Härte und Professionalität anhängen und einfach durch das Album weiterziehen ohne zu stolpern. Die Riffs und die Drums kommen in der gleichen Kompromisslosigkeit rüber und lassen so auch die zwei Cover-Songs Enter the Chasm (Beastcraft cover) sowie Eerily Howling Winds (Ancient cover) das typische Dødsfall-Flair versprühen!
Alles in Allem ein sehr gut gemischtes Gesamtwerk mit schwerer Old School Note. "Helvetets Griftegård" ist eine Limited Edition und kann jedem Schwarzmetallanhänger, der den typisch nordischen Sound verehrt, empfohlen werden.