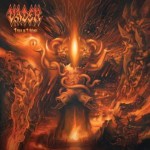 Nuclear Blast
Songs: 10
Spieldauer: 42:02
Bewertung: 4/6 → Find ich gut
Vader ist Vader bleibt Vader. Wenn man von den Polen spricht, dann ist sich jeder gleich ob Fan oder nicht darüber einig, dass sie eine Konstante im Death Metal sind. Wenn andere Bands sich immer wieder mal ans Experimentieren machen, so kann man immer getrost hierhin zurück kommen und weiß man was bekommt.
Ist das etwas Schlimmes? Nicht wenn es gut klingt!
Und auch auf Tibi Et Igni beweisen Vader, dass sie einen sehr guten, druckvollen Bollersound haben, welcher sich sowohl für Blasts, als auch Stampf-Parts eignet. Insgesamt erinnert der Sounds wirklich sehr stark an "Welcome to the Morbid Reich" https://www.eternitymagazin.de/2011/08/26/vader-welcome-to-the-morbid-reich-56/ , marginal etwas weniger ans Limit gepushed, aber kaum merkbar. Aber wen wundert es, wenn man im gleichen Studio war und wieder die Wieslawski Familie als Produzenten an Bord holte.
Wenn alles gleich ist, warum dann also dieses Album hinzukaufen und nicht gleich beim Vorgänger bleiben? Scherzhafterweise könnte man sagen, dass es immerhin zwei Intros gibt, welche sich als Opener geeignet hätten, einerseits "Go To Hell", als auch "The Eye of the Abyss". Gerade bei letzterem Song ärgert es ein wenig, dass man hier nicht doch einen harten Schnitt gemacht hat und Intro von der eigentlichen Musik getrennt hätte. 1:54 zu warten, um dann diese doch sehr fette Hookline zu hören, welche es einen unmöglich macht nicht den Kopf zu bewegen, ist in Zeiten von Musikkonsum und seltener Musikgenuß zuviel.
So bleiben "Triumph of Death" und "The End" als Empfehlung für diejenigen, die keine Zeit haben sich auf das ganze Album einzulassen. Ersterer befindet sich schön im Midtempo und einer Autobahnfahrt steht nichts im Wege. "The End" lässt einen zum Abschluß die Augenbrauen zucken, hört man Piotrs Sprachstimme und wundert sich nicht mehr, wie er es schafft, dass sein Organ zu einem der markantesten des Genres werden konnte.
Was bleibt, ist nur zu wiederholen dass Vader hier ein Werk geschafft haben, welches ganz klar für Ihre Musik steht und dennoch frisch wirkt, so dass diese Scheibe momentan von meinen Playlists nicht wegzudenken ist.