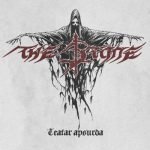 Mizantropeon Records
Bewertung: 4/6 → Find' ich gut!
Songs: 7
Spielzeit: 48:38
The Stone haben in über 15 Jahren Bandgeschichte schon einiges veröffentlicht, einige Shows gespielt und dennoch, so wirklich über das Mittelmaß hinaus ging es nie. Irgendwie fehlten da die Highlights, für mal zwischendurch anhören hat es aber immer gereicht. "Teatar Apsurda" ist nun das achte Album der Serben und eines kann man vorweg vermerken, The Stone sind ihrem Sound mit kleinen Veränderungen treu geblieben.
Kein Intro, sondern gleich der volle Bombast dröhnt auf einen ein, wenn die ersten Klänge von "Gavranovo" erklingen. Das Schlagzeug hat einen recht gleichbleibenden Takt, welcher mit der Rhythmus-Gitarre zusammen das Fundament des Albums bildet. Das kennt man schon von den Vorgängeralben, aber es wirkt insgesamt abgerundeter. Akzente setzt dann die Lead-Gitarre, der Gesang und die vereinzelten Choräle. Ein bisschen mehr Okkultismus, so könnte man sagen, hat sich hier eingeschlichen und das fällt positiv auf. Sicher lassen sich da Parallelen zu Cult Of Fire und weiteren vergleichbaren Bands ziehen, muss aber nicht als negativ gewertet werden.
Für Drumfetischisten bietet das Album leider nicht viel. Das mag wahrscheinlich daran liegen, dass The Stone nur einen Livemusiker als Drummer haben. Somit wirkt es an einigen Stellen monoton, auch wenn die Gitarrenspielereien voller kleiner Details stecken. Die Lyrics sind wie immer komplett in Serbisch, also ist man sich dabei genauso treu geblieben. Als Anspieltipp wäre noch "Ja, car i bog" zu erwähnen, der eigentlich das oben beschriebene perfekt zusammenfasst und im zweiten Teil mit einem kleinen Chor-Intermezzo heraussticht.
"Teatra Apsurda" ist wirklich solide gemacht und einfach eine schöne Weiterentwicklung der Diskographie, nur bahnbrechende Veränderungen darf man nicht erwarten. Für mich persönlich ist es sogar das beste Release der Serben. Sicher ist das auch für 2017 nicht das Album des Jahres gewesen, aber sicher eines im oberen Drittel der Veröffentlichungen. Fans der Band wurden somit auf keinen Fall enttäuscht und wer sie bisher nicht kannte, darf durchaus mal einen Versuch wagen, denn The Stone sind doch ein bisschen mehr als Mittelmaß!
https://thestonehorde.bandcamp.com/
https://www.facebook.com/thestonehorde